What happens if I mix mushroom strains and species in one cake
written by @Prof. Frags
Shroomok's choice on Amazon
TOP-3 stories about mushroom strains and species mixed in one cake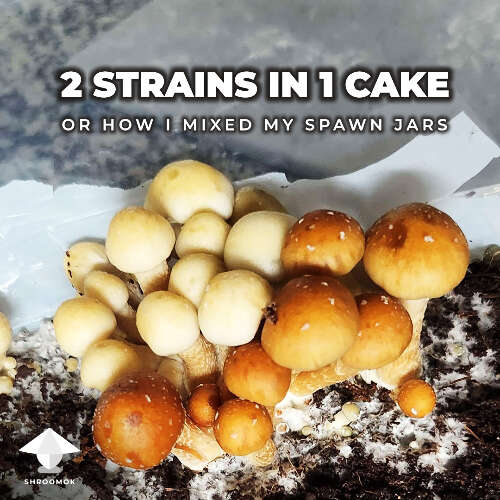 Story 1. How I mixed two cubensis strains in one mushroom cake and what came out of it
Hey Shroomok Community!
@Prof. Frags here — Magic Warrior on Shroomok Discord and, starting from this story, writer on shroomok.com
When I first began my amateur mushroom cultivation journey Shroomok told me:
In the world of amateur mushroom growing everything is possible
Those words rang the most true on in early morning in January 2023. Let me share why from the very beginning!
My growing process
On a late night November 2022 I decided it was great time to inoculate a series of jars with Psilocybe Cubensis.
For my spawn jars I like to use long grain organic rice that has been boiled for ~7 minutes before being used to fill 1 quart jars to 3/4 full. Then I place the jars with the rice in them into a pressure cooker for 90 minutes at 15 psi to sterilize.
The first series of jars was for Golden Teacher (GT) strain and another for some Albino Penis Envy Reverts (APE-R).
When I had initially inoculated the spawn jars, I was in the middle of my last college semester, buying a house, and organising a family visit for graduation. So, I had a lot to do, a lot to worry about.
During colonization period in my eagerness to find the warmth of my bed. I failed to label the jars to know exactly which strain in each jar.
It wasn't until the middle of January 2023 that I was able to move my colonized spawn jars into substrate (spawn to bulk in 16 Qt monotub). For my fruiting substrate I use a mix of coco coir and vermiculite. I used to just use coco coir and would consistently contaminate the substrate with Trichoderma green mold, but since adding vermiculite I have not had any problems with trich contam (maybe there is another reason).
One of the first things I noticed was how rapidly the mycelium run from colonization to fruiting. On the photo below you can see 10 days after the initial transfer of spawn to bulk substrate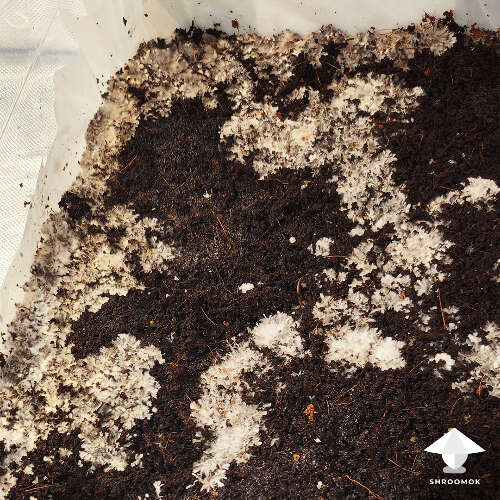 About 5 days later (15 days after spawn to bulk) I noticed the first pins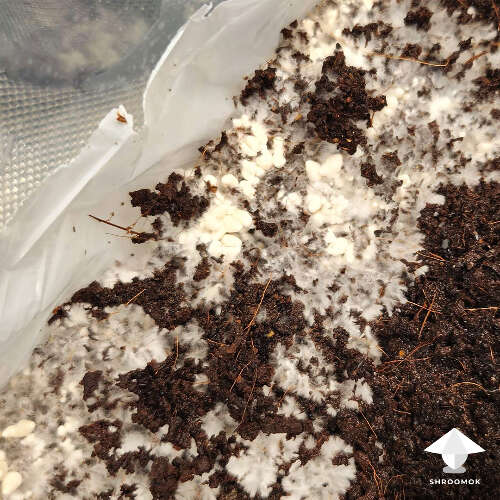 When I lifted the lid to check my monotub again I believed it was full of Albino Penis Envy Reverts (APE-R), but I found a little golden caps scattered amongst little white caps.
First fruits are coming! Here I realized I had mixed my spawn jars, hence I mixed two strains in my mushroom cake. Golden Teacher (GT) with my Albino Penis Envy Reverts (APE-R) 🤦‍♂️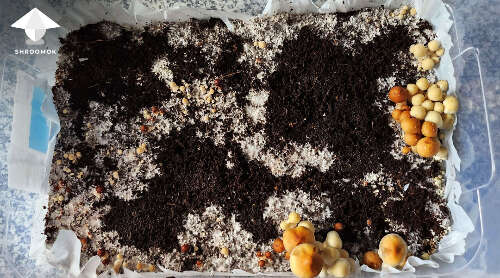 However there is still a lot of uncolonized space on my substrate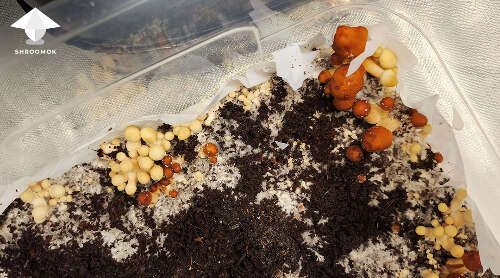 In total it took about 21 days from moving the spawn to bulk substrate to harvesting the first mushrooms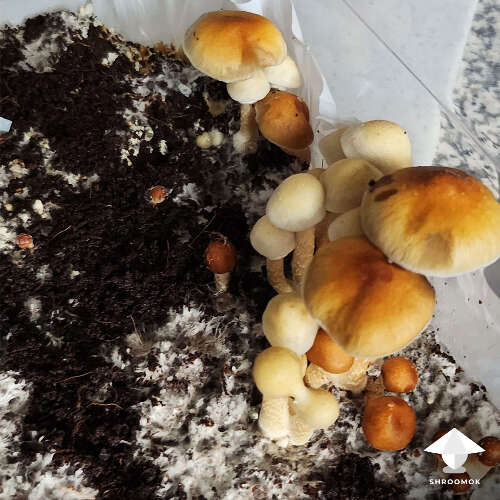 Actually, pretty good mushroom bouquet!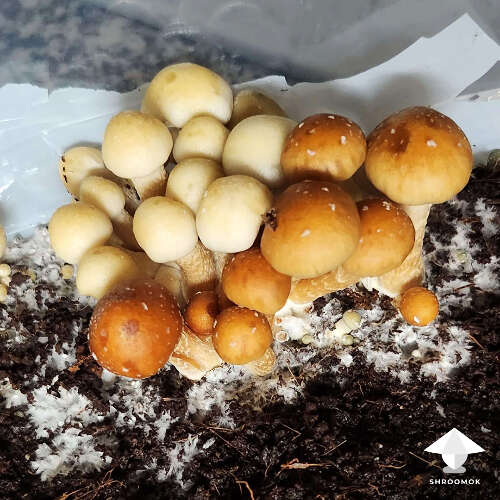 As a result, the mushrooms were smaller than normal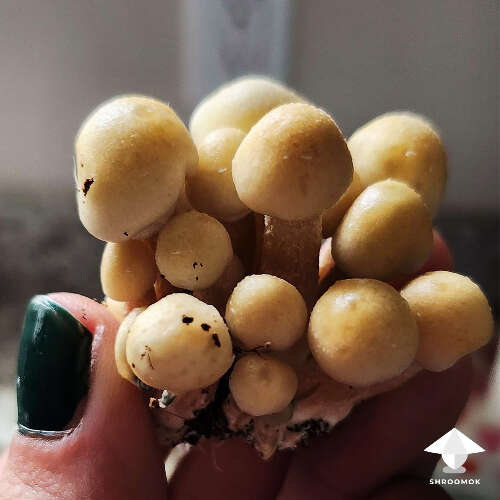 I flushed the APE and GT combo and it's had pretty minimal growth further. Even after 12 hours soaking in water mushrooms stopped producing mushrooms. Eventually, I harvested only 1 productive flush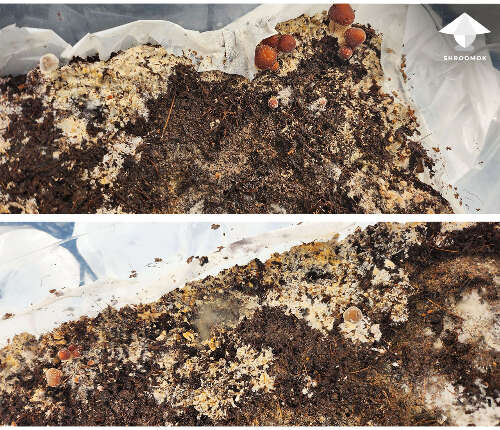 What I've learned from this case
On the top of mushroom cake you can see visible boundaries between 2 strains and between different mushroom colonies. Each colony has its own territory.
I've learned this time that rapid fruiting may be caused by contamination. In this case the mixture of 2 different strains caused the mycelium to fruit quicker. Each strain acting as 'contamination' to the other. Strains compete with each other for nutrients. As a result, fruiting started faster, but overall mushroom yield was lower, than usual.
My message to future newbie growers
Let's imagine that 'somebody' has just came up with the idea to mix a few strains and get the new strain. When I first started my mushroom growing I imagined that's how new strains were created lol. Bad news - it won't work in such way, this WON'T create a NEW strain.
Moreover strains compete with each other and loose energy. That's why growers try to isolate culture even within one strain, so that you'll get full colonisation and increase your harvest.
Is it possible to grow 2 strains in one cake? As you can see above it is possible!
If you just started you mushroom growing journey don't afraid to fail. Keep growing! Keep growing your mushrooms and your skills.
Sometimes fail can be turned into success. In the world of amateur mushroom growing everything is possible...
And one more important point! Label your jars and sign the strain :)
With love, Prof. Frags 😍
Story 2. I mixed cubensis strains APE with Luminous Lucy
Hey growers!
@Mycelia P here — MushroomHead of Shroomok Discord community.
My story is the following
I had 2 spawn jars ready for spawn to bulk. I thought both jars of spawn were Psilocybe Cubensis Albino Penis Envy strain, but one jar turned out to be Psilocybe Cubensis Luminous Lucy strain.
As a result, I mixed 2 different strains, but due to scientific classification it's the same species and gene Psilocybe Cubensis. They are relatives, but not at all. It's two different families, they are relatives, but they that would like to have their own apartments.
Here is a good couple of pictures to show what happens when you mix incompatible strains. This is the cake before it fruited

Shows good boundary lines between different mushroom strains (mushroom colonies)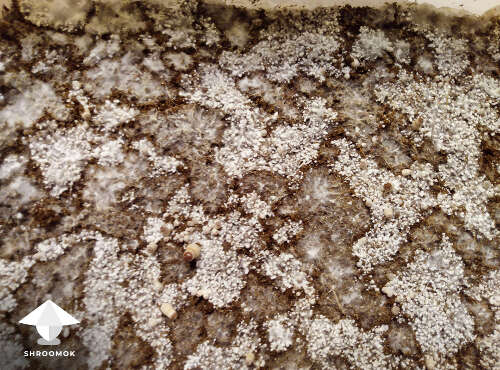 As a result I've harvested this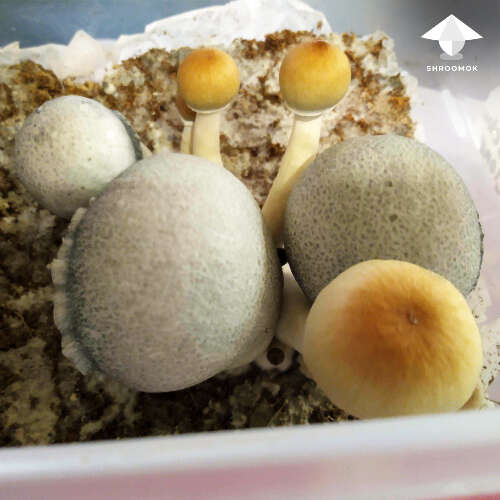 Enjoy your home mycology!
With love, Mycelia P ❤️
Story 3. I mixed different mushroom species Tampanensis with Cubensis
Howdy shroomers!
@mrzimm here — Tech Guru of Shroomok Discord and writer on shroomok.com
Let me share my case.
One day I mixed 2 different mushroom species. Not two strains of one species (cubensis strain with another cubensis strain you've seen in the stories above). I literally mixed different species!
Psilocybe Tampanensis (which develop sclerotia aka magic truffles) with Psilocybe Cubensis Golden Teacher (the most famous P. Cubensis strain)
Guide to check: How to grow magic truffles Psilocybe Mexicana and Tampanensis
How did this happen? I just used scissors to cut a piece of Tampanensis spore print after working with GT spore print. GT spores sticked to scissors, but between GT and Tampanensis manipulations some time has passed and I used these scissors for other purposes. Anyway, I couldn't find another reason how it happened!
I swear, I do wipe scissors with alcohol before using them, but... magic! Some GT spores survived
Some time later I've noticed strange mycelium colonies. They differ from each other (color, thickness, structure)

Then mushroom fruit bodies appeared that weren't Tampanensis for sure 😁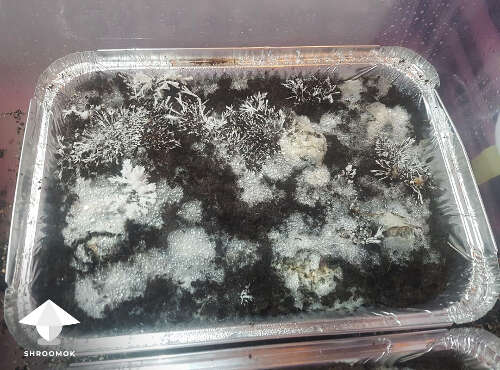 OMG, Cubes shrooms here! Look, cubensis cluster has thicker white mycelium and fruits are coming. Tampanensis has thiner fluffy mycelium around cubensis families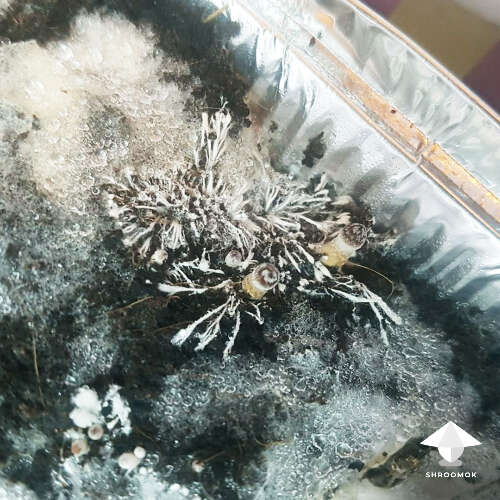 As a result I've got truffles inside the mushroom cake, because Tampanensis continued producing magic truffles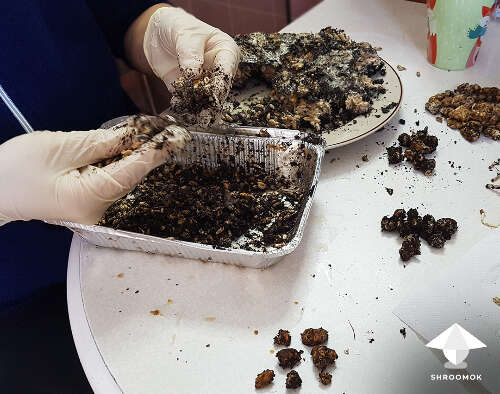 I harvested mostly Golden Teacher mushrooms and a few Tampanensis fruitbodies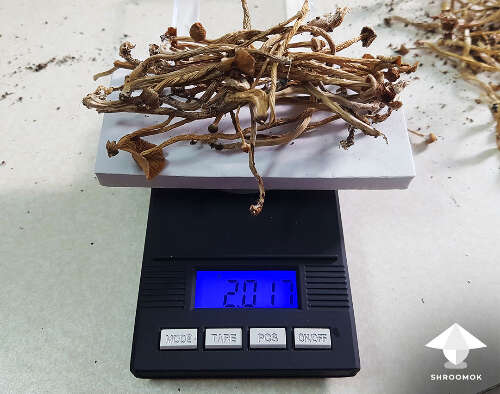 It's not easy to make Tampanensis to fruit. In this case especially. I got lucky enough to make one spore print of Psilocybe Tampanensis from these few fruits (it is common for tampanensis that rare caps produce spores)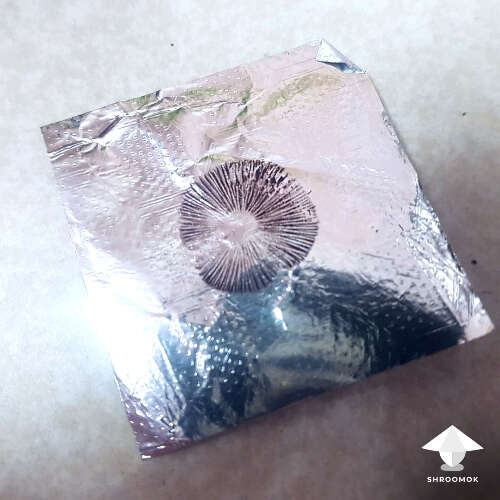 Let's sum up!
Competition for nutrients leads to a drop in yields for both species. As a result, Cubensis produced not so much mushrooms. Tampanensis produced a few shrooms only and realised its potential in producing sclerotia deep inside mushroom cake instead of development fruitbodies.
There is no benefit from such neighbouring, that's why growers try to isolate culture even within one strain. It takes at least few transfers on agar to choose one colony or cloning mushroom on agar, so that within one family mushrooms don't need to compete, you'll get full colonisation, good pinning and increase your yield.
However, there is no tragedy if you mixed strains or species by accident. Just fun!
Enjoy your unexpected experiments!
Peace, mrzimm 🙏