DIY Grow Box for Magic mushrooms. Fruiting conditions
STEP 9. Day 18-26. How to make Growbox for mushroom growing. Fruiting conditions
You've successfully passed Casing stage. For now casing layer colonised by mycelium (70-100% of the surface).
It's time to prepare growbox for the second phase of growing — fruiting and harvesting.
This means we will stimulate mushroom mycelium to turn from the vegetative phase of mycelium growth to the generative state - pinhead aka primordia formation and fruit bodies growth.
🔴 Some growers practice "cold shock" in refrigerator before moving mushroom cakes to growbox. Another part of growers are vehement opponents of such approach. Check details: Temperature shock. Pros and Cons of cold shocking in Mushroom Cultivation
GrowBox construction for mushroom growing
Follow step-by-step growbox preparation
1. You need plastic container, aquarium or terrarium for making fruiting chamber (aka growbox). The volume should be about 30 liters or 30Qt. You can use plastic boxes of larger (40-80 Qt) or smaller sizes (15-20 Qt) as well.
Don't use too small containers! The bigger volume of fruiting chamber the better. Because there will be accumulated less carbon dioxide (CO2) concentration during mushrooms growing. Bigger growbox can be ventilated a bit rarely and it's easier to control the microclimate conditions.
Wash your box thoroughly with any disinfectant detergent or bleach solution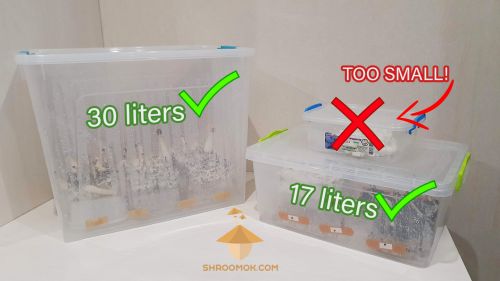 Shroomok's Choice on Amazon:
Modular Stackable Storage Bins - 64 Quart - 2 Pack - $52.89
2. Make 6-8 holes (diameter about 1 inch or 2 cm) on the both sides of growing box, at 15-20 cm from the bottom. Cover them with sterile breathing patch or adhesive synthetic filter disc. It's necessary for natural air exchange in your GrowBox. Because during fruiting period mushrooms need fresh air and they produce carbon dioxide. Such air vents help with additional natural ventilation during fruiting period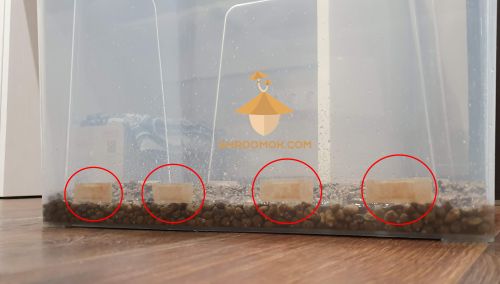 Shroomok's Choice on Amazon:
Synthetic Filter Discs - 16/30 Pieces $14.99

3. Make a separate hole in the grow box to connect the aquarium air pump. We need it for automatic fresh air exchange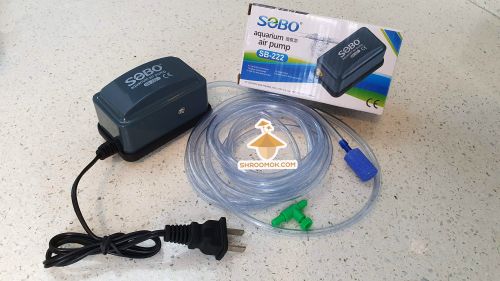 Shroomok's Choice on Amazon:
Quiet Oxygen Pump for 20-100 Gallon - 2 Outlets - $15.99
Adjustable Oxygen Pump for 20-100 Gallon - 2 Outlets - $14.99
Powerful Air Pump - for 20-200 Gallon - 2 Outlets - $22.89

Connect air pump hose.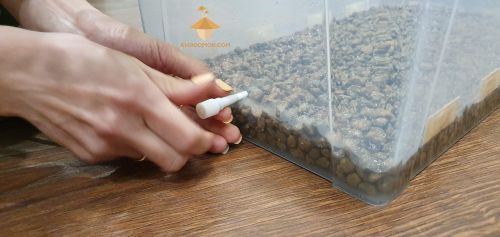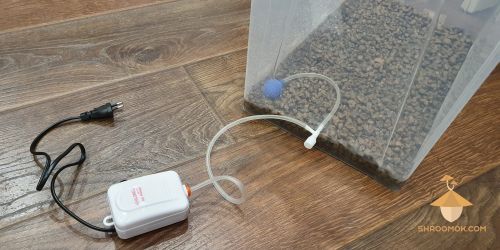 There is a stone at the end of the aquarium air pump hose; put it in a jar with water. This will filter the incoming air and just a little maintain humidity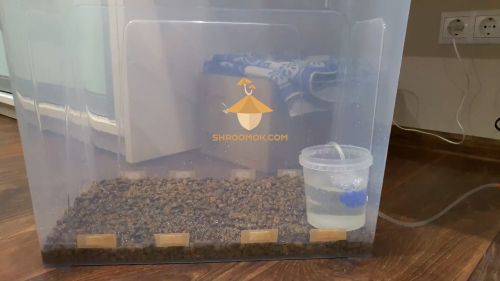 If you have enough space in growbox you can place jar with water and air pump stone in it between mushroom cakes or make a podium between cakes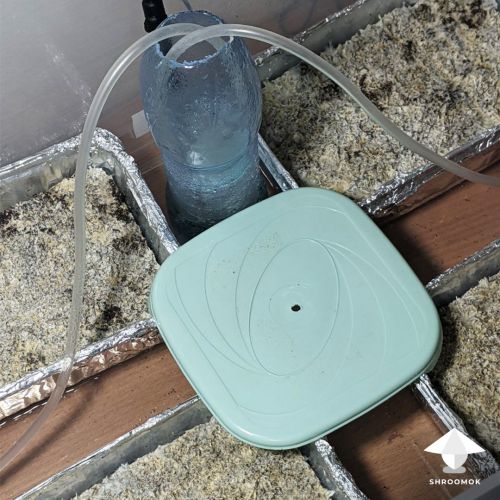 4. Some growers use exclay layer at the bottom of the grow box (about 1 inch or 2 cm). It maintain high humidity. At first we did so, but in the process we got a musty smell in our grow box. That's why we don't recommend to use exclay in the grow box!

5. Mix minimum 200-300 ml of chilled boiled water. Pour the water in the growbox. Water will evaporate and maintain humidity.
Optional! You can add 10-15 ml of hydrogen peroxide 3% solution per 200-300ml of water
6. Put all cakes in GrowBox. Some growers use cold shock before placing cakes in growbox.
🔴 Check out: Cold shock: pros and cons
We used cold shock only as an experiment that turned out to be successful. However, we don't recommend to use this method for warm-loving psilocybin mushrooms, that grow in the tropical and subtropical climate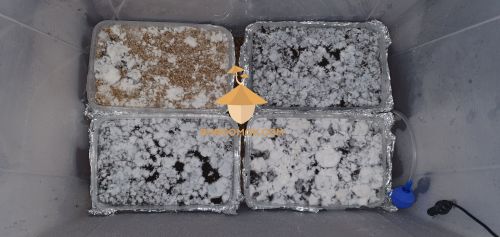 7. Close the lid of GrowBox.
8. Turn on the LED lamp. The lamp light should be weak in the blue range (~435 nm) or use fluorescent light 6500k lux power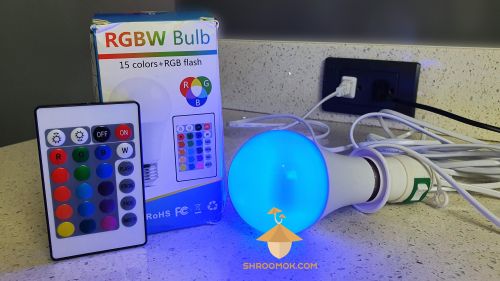 No need to use powerful lamp. Light is needed for pinhead initiation and to set the direction of growth for mushroom bodies. Diode strip or cold white lamp is also suitable for lighting your grow box.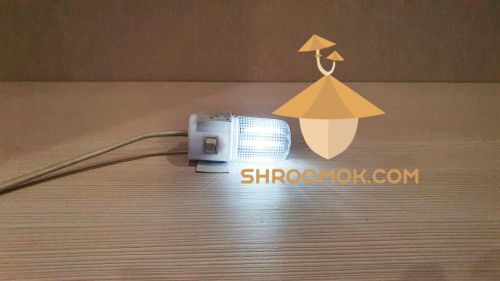 Natural light is suitable as well, but avoid direct sunlight!
Shroomok's Choice on Amazon:
Desk Lamp with Flexible Gooseneck 3 Level Brightness, Touch Control, Portable - $15.78
LED Pool Light, RGB Color Changing and Battery Powered Waterproof with Remote (3 Pack) - $13.99
Desk Gooseneck Magnifier Lamp with Metal Large Clamp, Magnifying Glass with Adjustable Light - $24.98
9. Add thermometer and hygrometer in the grow box to monitor temperature and relative humidity (RH) level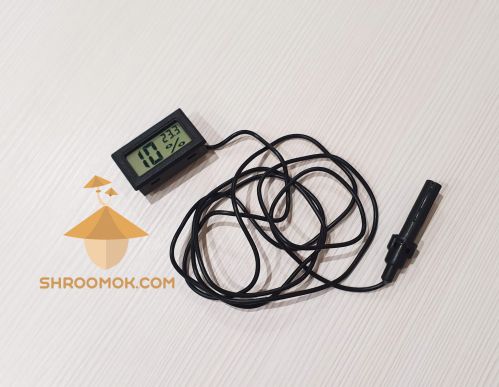 Shroomok's Choice on Amazon:
Bluetooth Digital Hygrometer, Thermometer with Remote App - $12.99
2-in-1: Professional Digital Hygrometer, Thermometer - $17.99

10. Fully equipped growbox with mushroom cakes is ready for fruiting and harvesting period!
Here is the 20th day of our growing cycle (starting from grain inoculation for spawn).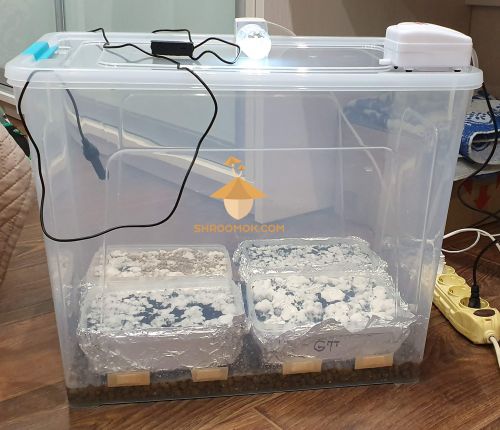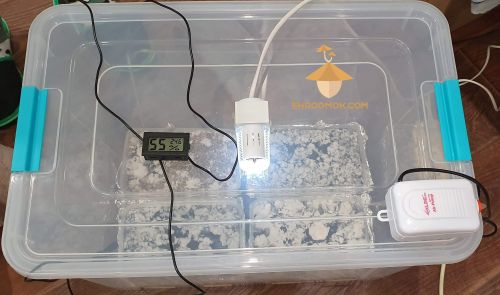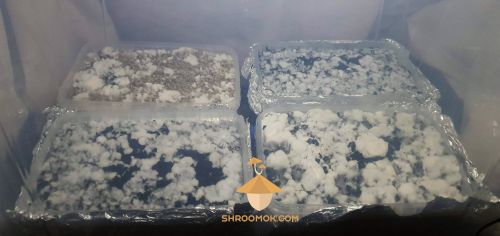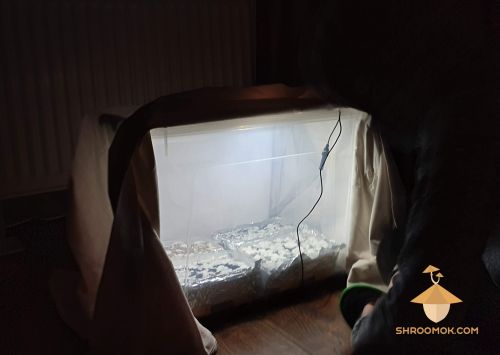 Here is the 24th day after inoculation. 2 cakes of Brazil strain. They did not seem to be sufficiently covered with mycelium. In fact, such rhizomorphic mycelium (root-like) cover is perfect and more productive than tomentose (fluffy, cloudy) mycelium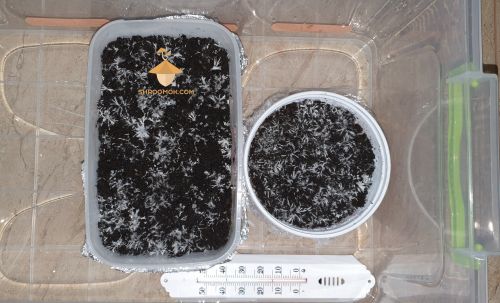 Another small growbox (volume is 17Qt) for 2 Brazil cakes near bigger GrowBox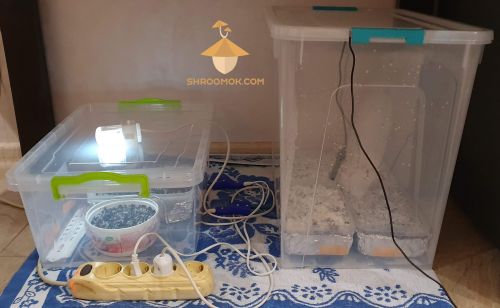 GrowBox for PF-tek mushroom growing
All steps are listed above applicable for PF-tek growing.
For the PF-tek make a layer of moist perlite at the bottom of the grow box, about 1 inch or 2 cm. Put PF-cakes on foil or any plastic surface. They shouldn't contact directly with moist perlite.

If you have several PF-cakes in your grow box, there should be at least 5 cm between them to let mushrooms grow from the sides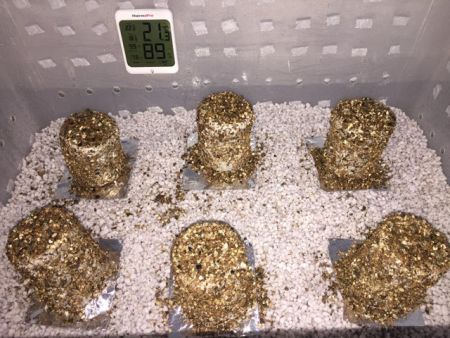 GrowBox for PF-tek cakes with air pump for fresh air exchange, light and digital thermometer/hygrometer/CO2 to control air temperature, humidity level and CO2 inside the growbox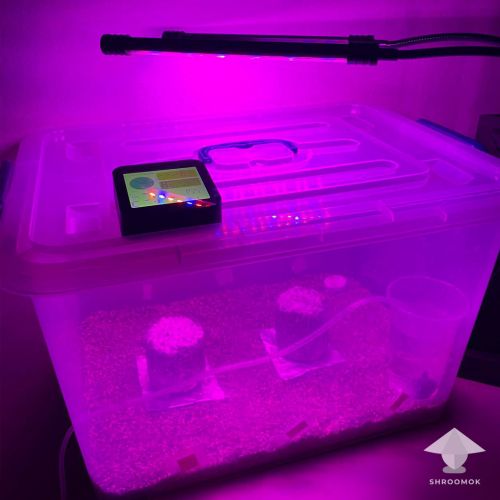 Growbox modification
Growbox modification with air pump for additional FAE in the corner. Mix of growbox and monotub tek.

Such fruiting chamber also works great!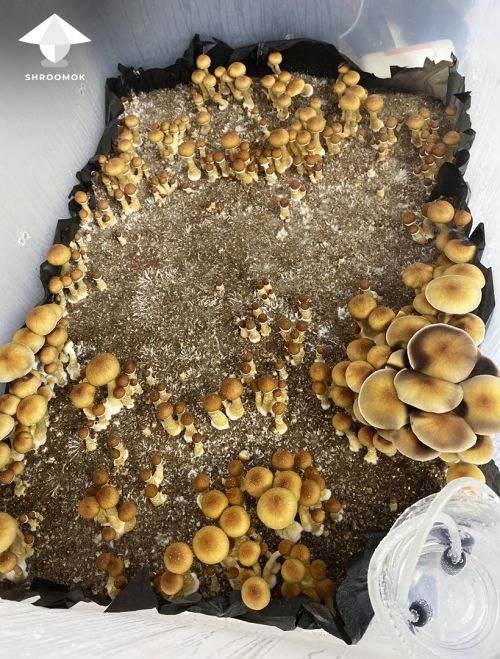 Fruiting conditions for Psilocybe Cubensis mushrooms
To initiate fruiting, we need to low down the temperature, increase humidity, give the mushroom a breath of fresh air, and turn on soft diffused light in cloudy weather. Such conditions is a sign for mushrooms, that the dry period is over and the rainy season is started. This means that mycelium can run from underground and produce mushrooms on the surface.
The most important thing for the grower for the next few weeks is maintaining proper fruiting conditions in the GrowBox. This is a set of environmental factors. Only a combination of all these factors provides the ideal environment for the growth of mushrooms. The final yield totally depend on this tricky period.
Let's briefly consider the necessary fruiting conditions for the next 7-14 days.
❇️ Air temperature
+22°...+23°C or 72-73°F
After incubation period we need to decrease the temperature by 5-10°C or 8-12°F to initiate the fruiting phase and pinhead development. The acceptable limits are +20..+25°C or 70-77°F. But at the lower limit the start and growth can be slowed down. At the upper limit there is a risk that mycelium will switch back to the vegetative phase. In addition, you should take into account that the mycelium itself warms up during growth, and the temperature in the substrate itself will be 1-2° higher.
At this stage, it will be enough to continue cultivation at room temperature. Of course, everything depends on the temperature in your room. During cold winter season you may need a heater (the same one you use for the incubator). And in the summer months, it may be too hot and you'll need cooling.
Measure the temperature with an ordinary thermometer.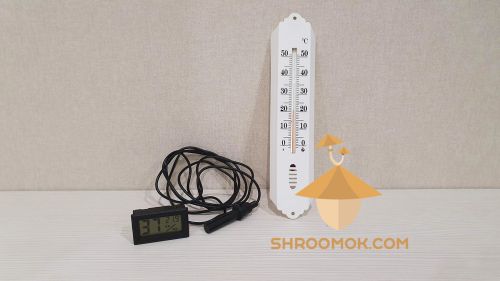 Shroomok's Choice on Amazon:
Bluetooth Digital Hygrometer, Thermometer with Remote App $11.99
2-in-1: Professional Digital Hygrometer, Thermometer $17.99

❇️ Relative humidity
The optimal RH is 90-95%
To maintain required humidity manually spray the walls of the growbox 1-2 times a day with clean water after fanning. When doing so, use cheap ultra fine spray-bottle. The smaller water drops the better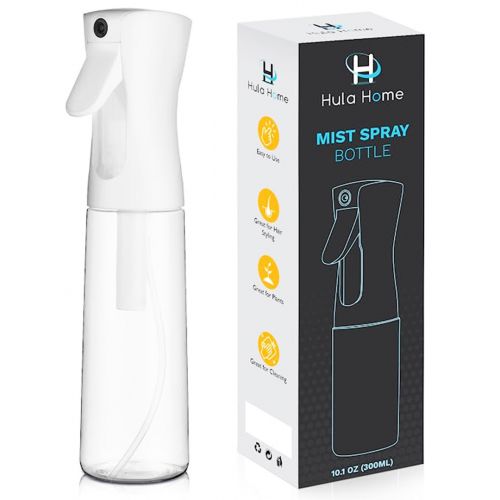 Mist spray bottle, 10 oz., White/Black/Clear $6.99
❌ Don't spray water directly on the mycelium. Avoid puddles on top layer!
❗️At the same time make sure top casing layer of the mushroom cake is moist enough. Casing layer and mycelium shouldn't be dry!
You can use a terrarium humidifier for any fruiting chamber, whether automated growbox or monotub. It should be built on top of your growbox. The intensity and frequency of spraying can be programmed. It helps to maintain constant relative humidity (RH) 90-95% automatically. Check RH level with hygrometer.
Or you can turn it on when airing your growbox.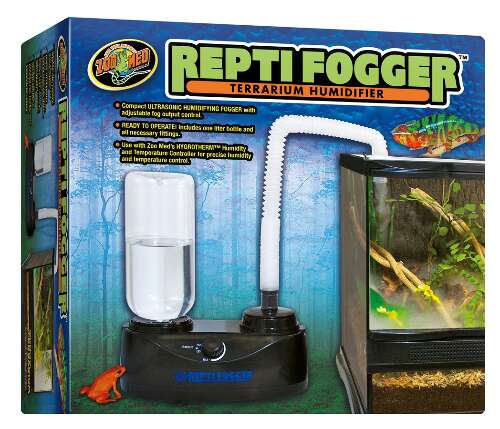 Shroomok's Choice on Amazon:
Humidifier/fogger with Extension Tube - 4L Large Tank - $31.99
Humidifier, Fogger for GrowBox - 3 L Tank - $49.77

❇️ Fresh Air Exchange
As you know, mushrooms breathe oxygen and emit carbon dioxide (CO2). After the temperature drops, the fungus will adapt to the new conditions, mycelium growth will slow down and it will emit less carbon dioxide.
At this stage you should introduce fresh air at least 3-4 times a day. Just open the growbox for 2-3 minutes and make a few winks with lid over the mushroom cakes. The smaller the growbox the more often you need to introduce fresh air.
You can also use PC fan for FAE in a growbox. Install it on the lid or on the side.
You can use an air pump for FAE in the growbox on a regular basis. You can use it 24/7 on slow mode or turn on every 4-6 hours for 1-2 hours. Or use it for day time and turn off for a night time to have total silence. All these options are suitable for Psilocybe Cubensis growing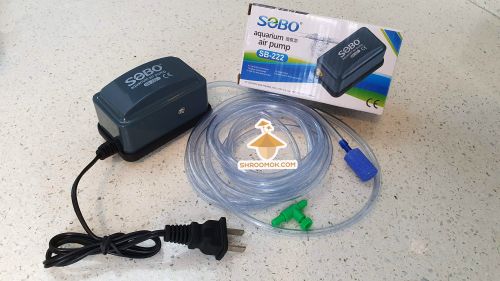 Shroomok's Choice on Amazon:
Quiet Oxygen Pump for 20-100 Gallon - 2 Outlets - $15.99
Adjustable Oxygen Pump for 20-100 Gallon - 2 Outlets - $14.99
Powerful Air Pump - for 20-200 Gallon - 2 Outlets - $22.89
❇️ CO2 level
Carbon dioxide level should be no more than 600-800 ppm
To measure carbon dioxide levels, you can use a CO2 detector. This device is very helpful, but unfortunately, not cheap. To compare, normal CO2 level outdoor is 400-450 ppm. In general, 600-800 ppm it's CO2 level in room, where breath a few people.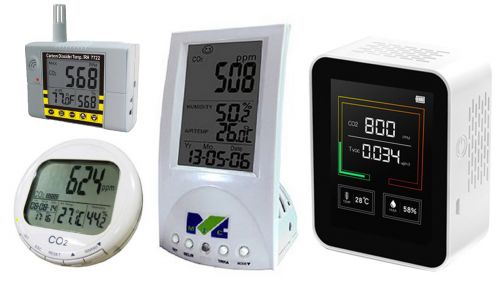 Shroomok's Choice on Amazon:
3-in-1: CO2 Meter, Temperature, Humidity; USB Power & Battery - $109.45
Professional 6-in-1: CO2 Detector, Air Pollution, Temperature, Humidity - $79.99
Smart Home - All-in-One - Radon & Air Quality Monitor - $211.11

❇️ Light 12 hours on/off cycle
Turn on the light for 12 hours a day. Natural light is good as well, but only diffused light.
❗️Avoid direct sunlight!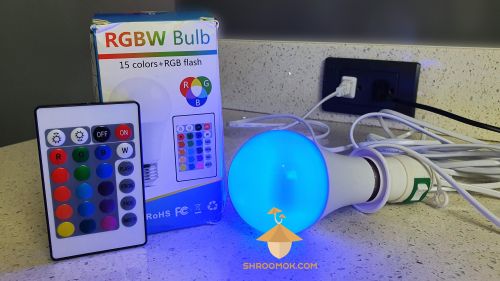 Shroomok's Choice on Amazon:
Desk Lamp with Flexible Gooseneck - Portable, Touch Control - $15.78
Cold White LED light bar, Under Cabinet with Memory Function $16.99
LED White Light Strip, 6500K - 16.4ft $19.99
LED light bar Under Cabinet Lighting with Touch Switch $22.99
Desk Gooseneck Magnifier Lamp - Metal Large Clamp - Black - $25.98
LED Desk Lamp, 1 USB Charging Port, 2 AC Power Outlet - Black $25.99
LED Rope Lights Waterproof, 6500K, 150ft $83.99
How to make automated GrowBox for mushroom cultivation
To improve your growing process and make automated growbox you can use different sensors, timers and all sorts of gadgets. It's up to you. The sky is the limit!
Humidity Controller and Timers are great things to use. Humidity controller will turn on/off humidifier to maintain humidity range automatically. Don't fear to dry out mycelium or overmist your mushroom cake or even leave it for a few days without your personal control. Timer will turn on/off light or fan/air pump according to required schedule you set automatically.
Shroomok's Choice on Amazon:
Digital Humidity Controller $25.12
Humidity Controller IHC200 Humidistat Mushroom GrowBox $42.99
3 in 1 Temperature, Humidity & Timer for Light or FAE $67.99
Great thing to use is a Smart Plug. You can connect your devices (air pump, light, humidifier) and use Remote Control with mobile app.
Shroomok's Choice on Amazon:
Smart Plug, Smart Home - 2 Pack - $14.69
Smart WiFi Heavy Duty Outdoor/Indoor Outlet, Timer - 3 Outlets - $19.99
Outdoor/Indoor Smart Plug Smart Home - 2 Sockets - $21.99
Let's sum up!
It's just a brief overview of the necessary conditions for the next few weeks after moving mushroom cakes in fruiting chamber.
🔴 Recommended article: Bottle-tek or How to grow mushrooms in plastic bottles is newbie-friendly guide, super easy and cheap tek. You can grow your mushrooms in plastic bottle without any equipment at all!

🔴 Recommended article: Forget Monotub Kit. DIY. How to make Monotub for Mushrooms by your own
In the next section we are going to figure out:
🔸 fruiting parameters and their combination
🔸 pinhead initiation
🔸 what can go wrong: problems during fruiting period with examples
🔸 contamination during fruiting period with examples
Now move on — STEP 10. Pinhead Initiation. Growing Parameters for Fruiting period 🔽