Disposing of magic mushrooms cakes
STEP 20. Day 71-73. What to do with wasted mushroom cake: carry on or throw away
This is the final step of our mushroom growing guide. Fruiting cycle is finished, mushrooms absorbed all nutrients from the substrate, eventually your mushroom cake stopped producing mushrooms. What to do with wasted (and contaminated!) cakes?
You have 2 options to follow...
How to carry on mushroom fruiting
Wasted mushroom cake fruiting outdoor
My favorite and the best way is bury wasted mushroom cake or mushroom block in the garden, or in the forest, or in plant pot outdoor. The best place to do this is under the shades of trees or bushes to avoid direct sunlight.
Dig mushroom cake and cover with thin layer of coco coir or garden soil as a casing layer (about 1 inch). Spray the top layer with water. Mist the top layer from time time or just let nature to do the rest. You can skip all sterility rules here.
✅ This tip also works for contaminated mushroom cakes, spawn jars and spawn bags. Give them a chance!
Of course, current climate conditions in your country affect the possibilities of fruiting. As you know, Psilocybe Cubensis, Psilocybe Natalensis, Panaeolus are warm-loving species. The more close your climate conditions to required fruiting conditions (or natural conditions for these mushrooms) the better. Impossible to grow them outdoor in cold winter season, however they feel great in warm summer time or during warm spring and autumn time.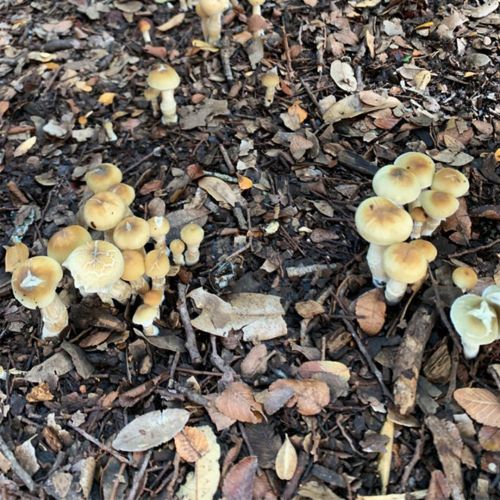 If you live in tropical/subtropical climate your shrooms feel good any season of the year with minimum support from your side during hot dry season
Be careful with shrooms grown outdoor! Always check and id mushrooms! Poisonous fungi can grow on the place where you bury your wasted mushroom cake
Wasted mushroom cake fruiting in a plant pot
Example of mushroom growing by quantum_mama on Discord Shroomok Growers Community
Hello all! I had a cake that I got 6 or so good flushes from in a bag. It only had 1 mushroom the last flush so I considered it spent. Well I buried it in a pot of potting soil I had laying around and placed it outside. I got some growth! So cool! Just wanted to share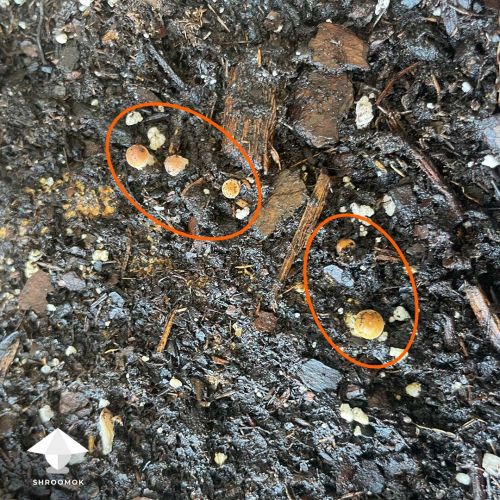 One more example. Plant pot for mushroom growing indoor or outdoor. Sometimes such neighbouring is so friendly!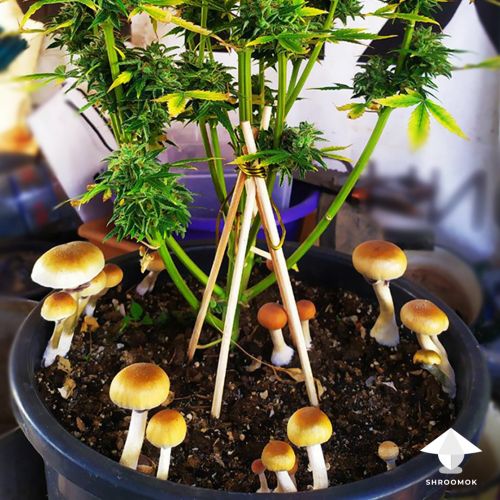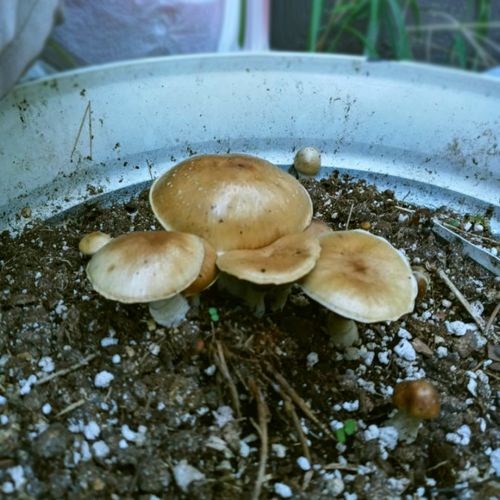 Experiment with different options and have fun!
Mix wasted mushroom cake with fresh bulk substrate
This method can be successful for healthy mushroom cakes after 3-4 flushes. Break mushroom cake and mix it with fresh portion of bulk substrate (for example, coco coir, vermiculite, gypsum and limestone mix for P.Cubensis).
Throw away wasted mushroom cakes
If you don't have opportunities for outdoor growing or don't want to bother with it just toss wasted or contaminated mushroom cakes.
One more important point to mention here! The legal status of unauthorised actions with psilocybin mushrooms varies worldwide. That's why this step is extremely important for some growers
🔴 Check out the Legal status of psilocybin mushrooms in your country
Pack them in a separate trash bag and throw it away separately from all your other trash. The same way for contaminated cakes, failed spawn jars, bags and stuff for mycological manipulations.
❌ Don't throw anything down the toilet! You'll have unwanted plumber issues
Usually spore prints, grow kits and all related growing products are legal as they do not contain psilocybin and psilocin.
Afterword
Dear Grower!
Shroomok sincerely wishes you to reach this final step!
10 weeks of this growing journey passed. We made 20 steps on the way of magic mushroom growing
Mushroom cultivation process is always accompanied by trials and errors, fails and successes, sadness and happiness, insights at each step.
Mushrooms teach us how to find and keep balance in everything: something too much is bad, something less than required is also bad.
Mushroom growing is a great life lesson. It is a unique experience. It's a special trip, that can't be compared to any mushroom trip. Mushroom growing is more that any psychedelic trip...
Anyone who has ever grown their own magic mushrooms will always remember this moment in their life story.
This simple trip to the Fungi Kingdom is over, but there are many more expeditions to the vast world of Mycology ahead of us. This is just the beginning...
Have a happy growing and enjoy the magic of mushroom cultivation with Shroomok!
To be continued...
Let's sum up our results: Mushroom grow report in numbers: charts, statistics, yield by flushes and by strains 🔽