Fourth flush of magic mushrooms harvest
STEP 17. Day 54-64. Fourth flush of magic mushroom fruiting period and harvesting results
Fourth flush of fruiting in photos
After 2-3 flushes mushroom cake usually produces less mushrooms, but fruit bodies itself can be bigger.
The 4th flush of P. Cubensis Brazil was harvested in 7-8 days after rehydration (54-55 days after grain inoculation).
The 4th flush of P.Cubensis Thai and Golden Teacher were harvested in 12-13 days after rehydration (63-64 days after grain inoculation).
Here you can see mushrooms with long stems, small caps and fuzzy feet due to lack of fresh air exchange. This flush is an example of poor fruiting conditions. Growbox was left for a week without additional FAE and any attention!
🔴 Check out: Why Mushrooms too Leggy, Fuzzy Feet and White Dots on Caps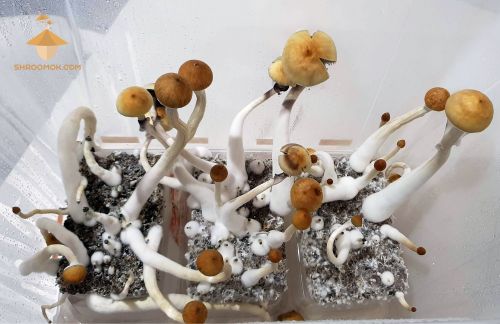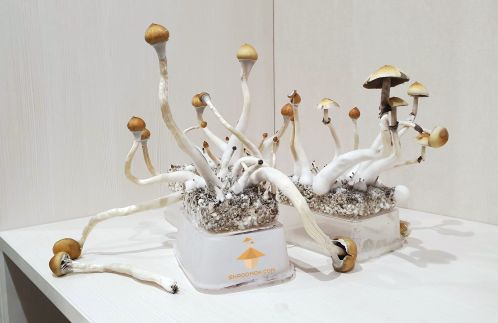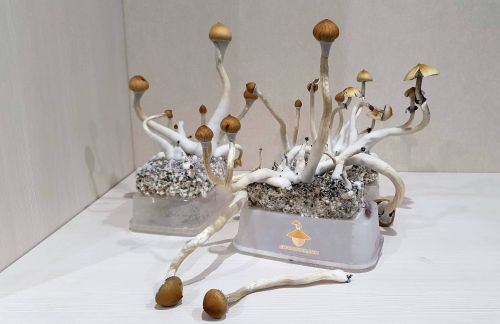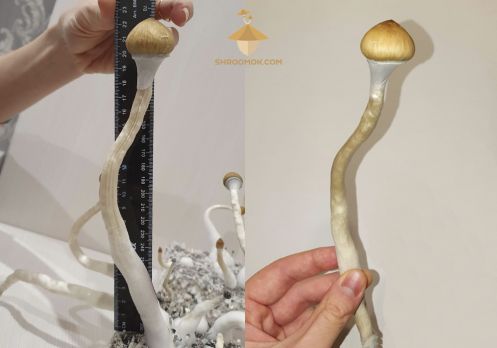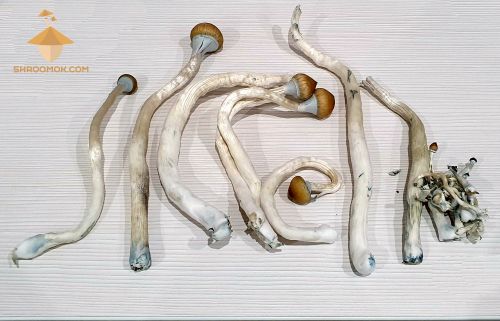 Total weight of the fourth flush of mushroom fruiting
From 5 small mushroom cakes total weight: 371.73 (g) wet = 35.7 (g) dried + 9 spore prints
🔴 Statistics by flushes and by strains: Grow report in numbers
How to initiate 5th flush of mushroom fruiting
Repeat rehydration process for mushroom cakes after harvesting. The rehydration process the same as we made before (soaking in water for 8-24 hours).
After 2-3 rehydrations, soaking for 4-8 hours is enough. Sometimes you can skip rehydration if mushroom cake/block is wet enough
🔴 Recommended: Rehydration guide
Waiting for the 5th flush — Step 18. Fifth flush of magic mushroom fruiting, harvesting results 🔽