DIY magic mushroom capsules for microdosing
Shroomok's choice on Amazon
Capsules with mushroom powder is the most convenient way to take microdoses. How to choose capsule size for mushroom microdosing and how to make mushroom capsules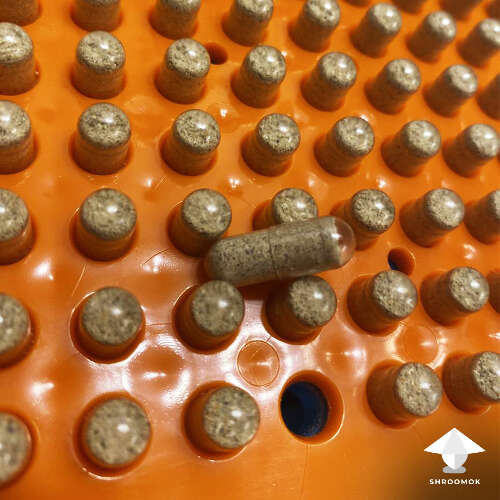 How to make capsules with mushroom powder for microdosing
Capsules with mushroom powder is the most convenient way for taking mushroom microdoses. This method saves your time and helps to take constant dosage every time, that is very important.
For a conscious microdosing follow the schedule and take a break between microdosing courses. If you don't know exactly your own microdose you can prepare capsules of different weights and determine it experimentally during your calibration period.
❗️Check out: Mushroom Microdosing Guide
Before making capsules for microdosing many questions arise. Let's figure out!
How much mushroom powder contains in one capsule? Capsule size for mushroom microdosing
Capsule sizes and approximate content of powder in their volume are given in the table below.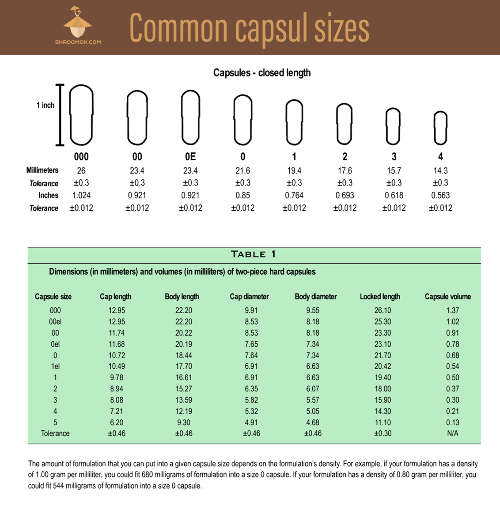 #00 or #0 or #1 are optimal sizes
On the photo below you can see "0" size hard vegetarian stomach-soluble capsules we used for preparation mushroom microdoses. This capsule size allows you to adjust the microdose up to 0.3g of mushroom powder in one capsule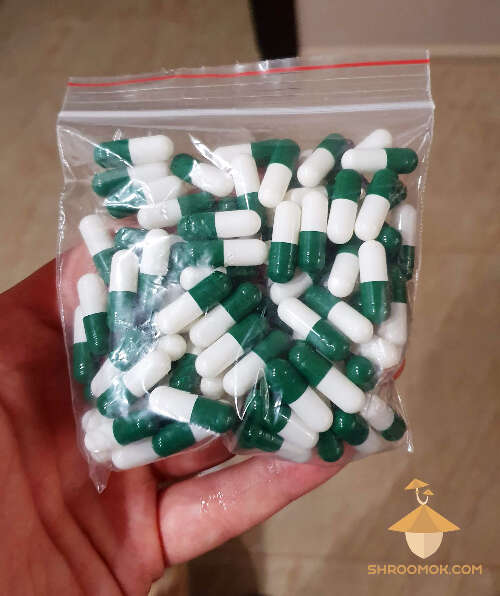 The weight can be adjusted based on your individual microdose. It's easy to guess if you need 0.4 grams, then prepare 2 capsules 0.2g each.
What capsules to choose for mushroom microdosing?
Stomach-soluble or intestine-soluble? Gelatin or Vegetarian?
There are capsules soluble in the stomach and capsules soluble in the intestines. For mushroom microdosing choose stomach-soluble capsules, as absorption of alkaloids with the stomach is a standard practice for microdosing.
Vegetarian or Gelatin capsules is up to you. It doesn't influence on microdosing effects at all. Choose according to your individual preferences and lifestyle.
DIY capsule filling for microdosing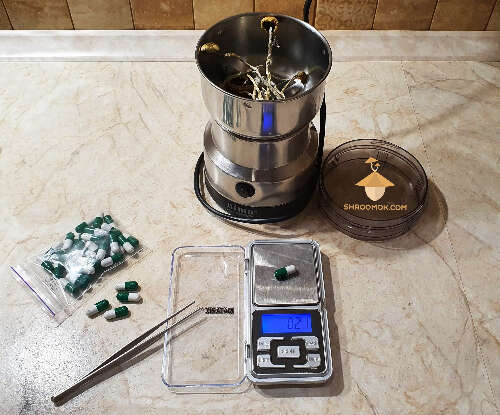 What you need for making capsules for microdosing:
1. Dry Mushrooms. They should crumble easily, like chips. If mushrooms aren't dried enough, you won't be able to turn them into a powder
🔴 Recommended: How to Dry and Store Magic Mushrooms
2. Empty stomach-soluble capsules. Use #00 or #0 or #1.
Shroomok's Choice on Amazon:
Size 00 - Empty Vegan Capsules - 100/500/1000 Count - Dif. Colors - $7.89
Size 0 - Empty Vegan Capsules - 100/500/1000 Count - Dif. Colors - $6.99
3. Jewelry or Medical or Laboratory milligram scales.
It is important to know the exact weight of each microdose. Never take microdoses on eye!
Shroomok's Choice on Amazon:
Digital Mini Scales - Capacity 200g, Accuracy 0.01 g - $10.99
4. Coffee grinder to turn dried mushrooms into powder
Shroomok's Choice on Amazon:
Stainless Steel Coffee Grinder w/Cleaning Brush, Different Designs $23.95
5. Tweezers or Capsule Filling Tools for fast and easy capsule filling.
You can also use Capsule Filling Machine for fast filling a bunch of capsules (100 capsules at a time). However you don't need so much at once.
Shroomok's Choice on Amazon:
Capsule Filling Kit for Pill Filler $9.99 - for filling capsules one by one
DIY microdosing capsules
1. Grind dried mushrooms in coffee grinder. Open capsule's cap and fill it with mushroom powder. Tamp it with Tweezers or Capsule tamper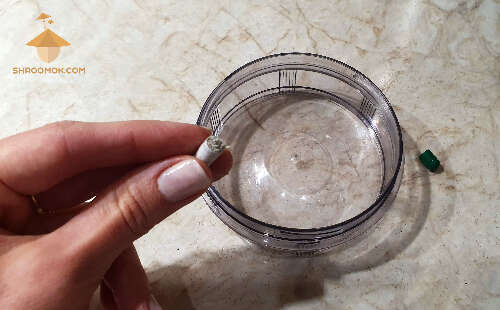 2. Close your capsule. Check the weight with milligram scales. When weighting a capsule note that the weight of empty capsule is 0.05 grams.
3. Store ready-made capsules for microdosing in the refrigerator or dark place at room temperature. Take microdoses according to your schedule
If you find this guide helpful you can 🍄 Buy Shroomok a mushroom as a donation and say something nice!
Take care!
Peace, Shroomok 🤍