Magic mushroom tea
From Shroomok | Let's grow magic mushrooms
Psilocybin mushroom tea
Do you want to brew an elixir with magic mushrooms but don't know how to prepare it properly?
In this section we explain the most important aspects of making tea with psilocybin mushrooms.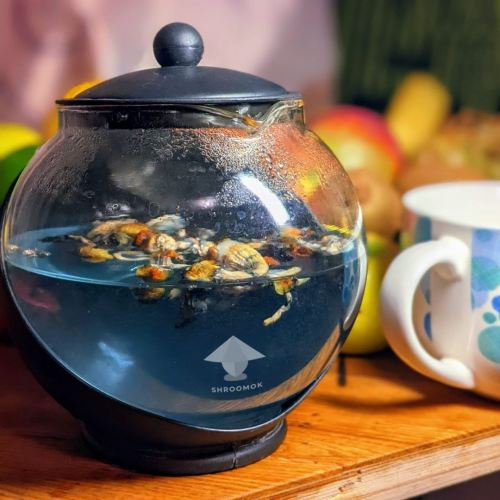 Common methods of consuming magic mushrooms
Let's briefly discuss the various ways to consume psilocybin mushrooms.
The easiest way to consume is to simply chew whole dried mushrooms and wash them down with water.
But many psychonauts don't like the taste of psilocybin mushrooms. After all, they don't taste like ordinary edible or gourmet mushrooms.
🍫 If you are among such people then you can eat mushrooms in form of mushroom chocolates. You can find how to make them in the Recipe for making mushroom sweets and mushroom chocolate section
☕️ Or you can make delicious mushroom tea or mushroom broth.
What mushrooms are needed for mushroom tea?
For making magic tea are suitable:
🔸 fresh whole mushrooms
🔸 dried whole or dry grinded mushrooms (in a coffee grinder)
🔸 frozen whole mushrooms
Fresh and frozen mushrooms have the highest concentration of psychoactive ingredients!
The way of drying/freezing and storing magic mushrooms affects the psychoactive substances content in mushrooms. Therefore, even with proper drying up to 50% of the psilocybin activity is lost.
How to properly freeze or dry mushrooms for storage and consumption you can find in the How to dry and store psilocybin mushrooms section.
Mushroom tea vs chewing. How does water temperature affect psilocybin in mushrooms?
🌡 Partial decomposition of psilocybin into psilocin starts from +50°C or 122°F. That's why higher temperature isn't recommended for drying magic mushrooms in order to save the psilocybin in the mushrooms for long-term storage.
If heat mushrooms in water from +87°C or 189°F psilocybin is quickly and completely transformed into psilocin.
As we know, psilocin affects the brain and makes a transition into psychedelic trip.
Therefore, if consume mushrooms in the form of tea your body doesn't waste time on this metamorphosis and assimilates it faster. This is the main feature of mushroom tea! Mushroom tea works faster and the entrance to the trip is also faster.
Higher temperatures for making tea are acceptable to speed up the reaction.
However, such product must be taken fresh. It doesn't retain its psychoactive ingredients for a long period of time.
🌡 If heated from +137°C or 279°F or during prolonged boiling psychoactive components of psilocybin mushrooms are completely destroyed. They remain edible, but useless.

Simple recipe of mushroom tea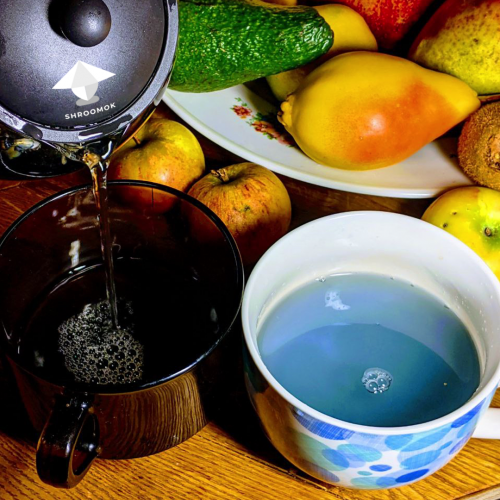 1️⃣ Weigh the required dose of mushrooms. Do not exceed the dosage!
2️⃣ Put prepared mushrooms (fresh, frozen or dried) in a thermos, tea pot or thermo-mug.
3️⃣ Boil water. Just let it stand for a couple of minutes to cool down a bit. The water temperature will be sufficient within +70°..+90°С or 158-194°F.
4️⃣ Pour hot water over the mushrooms (250-350 ml per one serving of mushrooms). Do not use boiling water! Don't boil mushrooms!
5️⃣ Let mushroom tea brew for 10-20 minutes.
6️⃣ Then mushroom tea can be filtered. Shrooms can either be eaten or thrown away, because almost all the psilocybin from the mushrooms has already dissolved in the tea.
7️⃣ If you want to add flavor you can add ginger, cinnamon, any spices, syrup, honey etc. It's up to your tastes, but don't get too carried away. Mushroom tea itself without any additives tastes really great, like mushroom soup.
8️⃣ You can also add lemon or orange juice.
☕️ Magic Tea is ready! ☕️
🌟 Drink fresh mushroom tea right after preparation or within a few hours after.
Check out before consuming psilocybin mushrooms
🔴 How to prepare for psychedelic mushroom trip
🔴 How to deal and prevent Psychedelic Bad trip
🔴 Psilocybin mushrooms microdosing
Peace and enjoy your magic tea 🙏

🍄 Support and buy Shroomok a mushroom 🍄
Feel free to ask any questions or share your own experience in our Discord, Reddit, Telegram Chat, Telegram Channel or in comments to this post ⬇️⬇️⬇️
Join our community