My incubator with spawn jars was overheated
Shroomok's choice on Amazon
What if I overheated mycelium in jars? What temperature kills mycelium? Is it possible to save spawn jars if incubation box had high temperature for a few hours?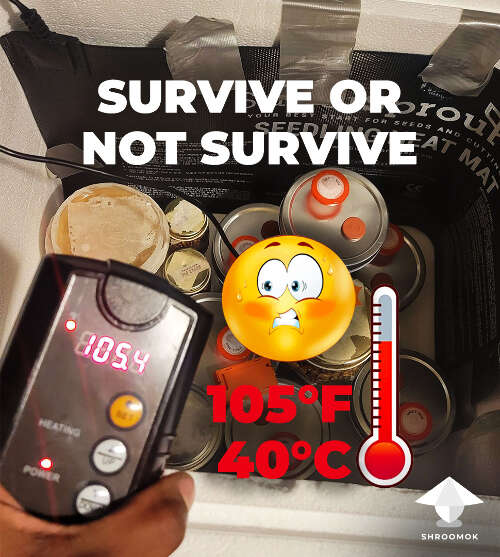 Will mycelium survive if my incubator accidentally overheated?
A few real Q&A cases shared on Shroomok Discord that can happen to every mushroom grower
D!NGO: So my thermometer fell out of the box while I was away at work… I'm screwed on this, aren't I? Is it possible they survived at 105°F (40°C)? That would be such a life saver! It's B+ strain btw, if that means anything
🟠 Answer from Shroomok: Temperature is one of the most critical factors in mushroom cultivation for any kind of fungi as it affects survival overall, growth rate, time of fruiting, yields, molecular changes in protein structure and even mushroom morphology.
The survival of fungi is determined by temperature, but also exposure time.
Mycelium perishes at high temperatures around 113°F (45°C). However, prolonged exposure at temperatures above 95°F (35°C) more than 3-4 hours can also destroy mycelium cells and eventually kill mycelium.
It was shown in researches and experiments with shiitake and warm-weather species by Tokimoto and Komatsu (1978, 1982)
🟣 D!NGO: This is very helpful! Thank you. I haven't thrown anything away yet so fingers crossed
🟠 Shroomok: Let's hope for the best 🤞 Keep us updated please!
🟣 D!NGO: Dito! I be sure to document everything and go from there!
Some time later…
🟠 Shroomok: Hey D!NGO! Do you remember when you accidentally left spawn jars at 105°F? Did the jars survive? Any updates?
🟣 D!NGO: They did not unfortunately. They ended up dying off after a few days. Apparently it was left at that temperature for a few hours
🟠 Shroomok: All the jars dead? And mycelium was already there, right?
🟣 D!NGO: Yeah they all turned black and just stayed that way. I kept them 3 weeks to see if anything would change and it didn't. And yeah... They were about 1/8th colonized
🟠 Shroomok: You're not alone with this case. Thank you for update!
One more case later
🔴 Zen.eth: Hey guys, quick one, stupidly left my heater on for about an hour and a half and the room got to 120°Fahrenheit (49°C). Will the jars be ok? It's cooled down now. Quite a lot of condensation in the jars but they seemed to have cooled off
To be continued...